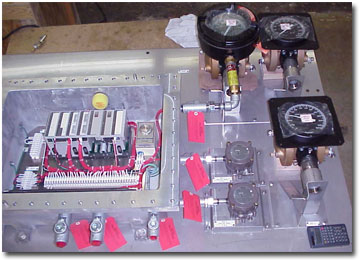 Multi-Electrical Services, Inc. is in the business to assist the few quality conscious companies that have an appreciation for a full service provider.
One of the ways MULTI offers one stop quality service is by designing and building control panels for industrial & commercial applications. If you are involved in a machine automation project or have some ideas about what you would like a machine to do, contact us to assist in the design, manufacture, and installation if necessary of your control panels.
We have years of experience assembling and wiring control panels, consisting of stainless steel and painted carbon steel enclosures in addition to explosion proof (hazardous location wiring) cast aluminum enclosures. We employ the following in our panels assemblies:
-- Computer generated wire labels that insure legibility.
-- Wiring harness are neatly bundled.
-- Wire duct is used to provide a neat and organized look.
-- All devices and PLC/IO points, including spares and door mounted devices are landed on terminal strips to facilitate ease of installation, troubleshooting, and expansion.
-- We cut and engrave custom legend and name plates per your specifications.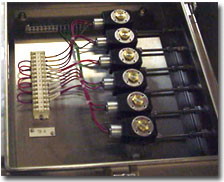 All panels are built using only
UL
,
CSA
, IEC,
NEMA
, JIC and CE listed components.
We have experience designing and building panel assemblies containing programmable logic controllers (PLC) and variable speed frequency drives. We have the ability to provide controller programming and troubleshooting services for PLC's. We have shipped control panel assemblies installed on job sites worldwide.
We specialize in
Allen-Bradley
PLC applications including ControlLogix,
SLC500
, MicroLogix 1000, 1200, 1500 and
Square D
Modicon. If Human Interface Operators are required in your application, we can provide, install and program your PanelView,
VersaView
and
EZTouch
operator terminals. We can design your custom Operator Interface Applications with Visual Basic,
WonderWare
,
RSView
.
We have even designed conveyor controls, built the control panels, and provided the installation and start-up. This process eliminates the finger pointing that inadvertently occurs when different teams develop and design systems, and others install it.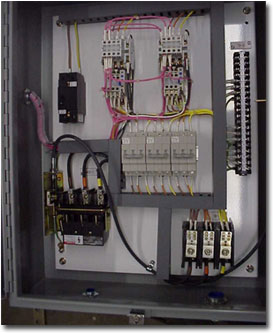 We specialize in building relationships with process equipment manufacturers (Manufacturer's of pumps, compressors, blowers, strainers, mixers, valves, etc.) We have found the most rewarding relationships are with Original Equipment Manufactures (OEMs) that value a full service company.
We have the ability, if requested, to provide the Underwriters Laboratories listing of industrial control panels,
UL508A
.
Our panel shop is located in Kannapolis, NC. We build control panels that have been designed by others, as well as by out own in-house team. We utilize the latest version of computer aided drafting (CAD) software to produce drawings for review, revision, construction and installation.